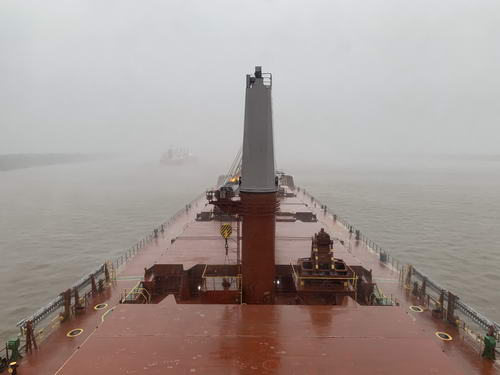 Tropical Depression Cristobal Avoidance
09 Jun 2020
Upon completion of loading grain products at New Orleans, USA m/v ANARITA was bound to Panama Canal transit.
However, the intended Mississippi river pilotage was restricted due to approaching Tropical Depression Cristobal. The center of the storm was located about 40 miles north of Baton Rouge with maximum sustained winds of 35mph, according to the National Hurricane Center.
Any ship in the vicinity of a tropical cyclone should make every effort to remain clear of the maximum radius of analyzed or forecast 34 KT winds associated with the tropical cyclone. The ultimate responsibility for the safety of a vessel and its crew rests with the vessel's master.
The Master of m/v ANARITA has taken prompt effective actions to ensure the safety of ship and crew. The safe anchorage place was chosen taking into account the river width, the nearest distances to navigational hazards; the characteristics of the seabed. The detailed risk assessment was conducted with implementation of all precautionary measures in accordance Company's SMS and USCG requirements.
All above prompt actions resulted that no additional shore assistance (stand-by tugs, pilot and etc.) was involved.