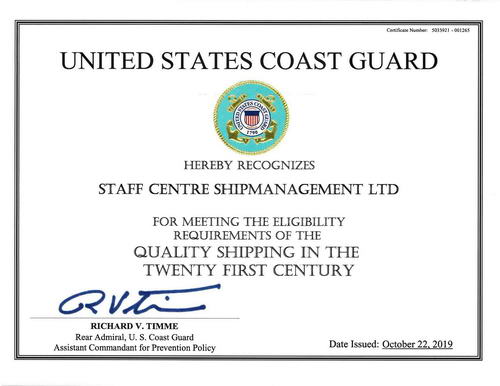 Staff Centre Shipmanagement Recognition with QUALSHIP 21 Program
22 Oct 2019
The Coast Guard is trying to ensure safe, secure, and environmentally sound maritime commerce, simultaneously offering the program to reward those companies, operators, and vessels that demonstrate the highest commitment to quality and safety through the highest level of compliance with International standards and United States law and regulation.
Since January 1, 2001, the Coast Guard implemented an initiative to identify high-quality ships and provide incentives to encourage quality operations.
This initiative is called QUALSHIP 21, quality shipping for the 21st century.
On 22 October 2019, in recognition of our Company's commitment, the U.S. Coast Guard provided a QUALSHIP 21 certificate for Staff Centre Shipmanagement.