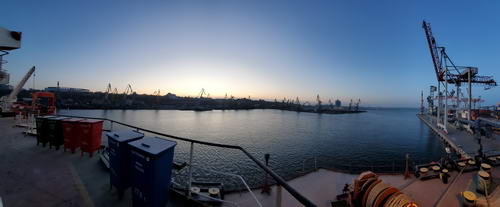 Ship's Call to the Home Port
03 Nov 2019
One of SCM managed vessel, namely m/v ARCADIA, has called to port of Odessa, Ukraine for loading of grains.
It was a great opportunity for shore personnel from Staff Centre Group of Companies to visit the vessel like for a live exhibition. Beside the entertainment part, the representative from Safety Department handed over a Certificate of enrollment to USCG QUALSHIP 21 Program personally to the Master. A planned internal ISM and ISPS Audit was also conducted in due manner.
The representatives from Staff Centre Training arranged on board training session on topics of a great concern among managed vessels.
The subject vessel was found perfectly maintained and manned with high qualified crew which was substantiated with five sequential PSC inspections without deficiencies.