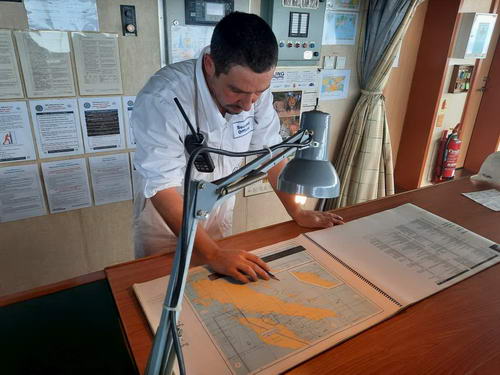 Joint Ship to Shore Exercises Campaign 2021
25 Oct 2021
The Joint Ship to Shore Campaign 2021 was successfully completed in accordance with the ISM Code Paragraph 8 in respect to emergency preparedness.
All crewmembers showed good knowledge of their duties, skills and ability for actions in emergency situations in conformity with Shipboard Contingency Procedures. The life-saving appliances and fire-fighting equipment, as well as SOPEP spill kit were found in good and working condition.

Emergency preparedness in case of cyber security threats was verified through careful adherence to the shipboard critical checklists (GPS Failure; Main/Secondary ECDIS failure and etc.)

Communication with the third parties was exercised using VHF, GMDSS, FBB equipment and e-mail.

All navigation officers were familiarized with the publication Intertanko Jamming and Spoofing of Global Navigation Satellite Systems (GNSS).

Additional training and familiarization with the VDR/ECDIS data preserving procedure were discussed with all OOW.

Two-way phone communication was checked between Master and Vessel Support Team Manager / Deputy DPA in accordance with Cyber Security Management Plan.
All vessels demonstrated good results during the exercise and no changes are required in the corresponding Joint Ship to Shore Booklet.